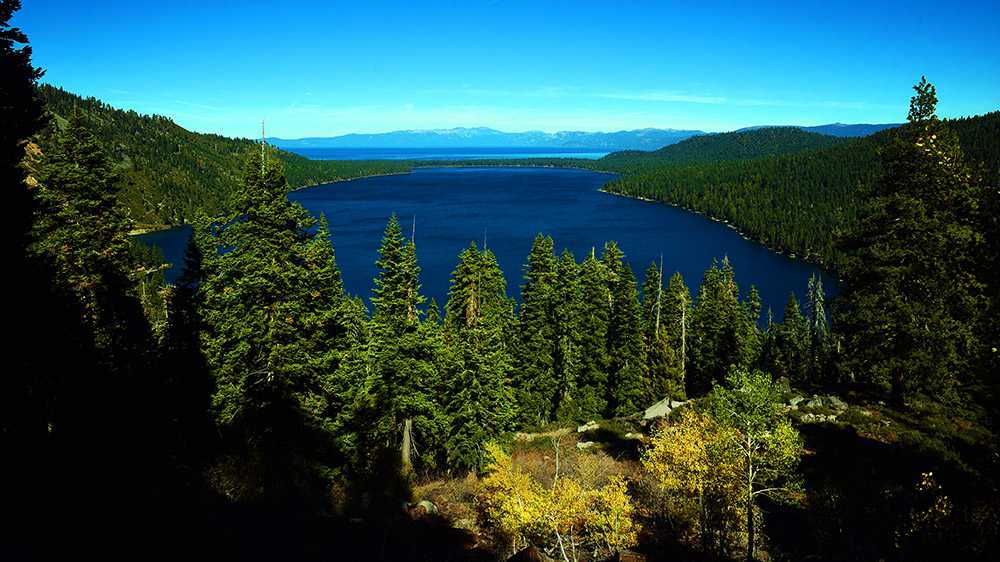 Sightseeing
A visit to Tahoe or Kirkwood would not be complete without taking in the spectacular views from various vantage points and locations. For more things to do in Lake Tahoe.
Aerial
Scenic Gondola Rides at Heavenly Ski Resort
4080 Ski Run Blvd, South Lake Tahoe, CA – 775-586-7000
Scenic Aerial Cable Car Rides at Squaw Valley
1960 Squaw Valley Road, Olympic Village, CA – 800-403-0206
Emerald Bay Aviation
Scenic tours of Lake Tahoe and aircraft rental
Lake Tahoe Airport – 1841 Airport Road South Lake Tahoe, CA
Reservations – 530-542-0402
Lake Tahoe Balloons
Reservations – 800-872-9294 or 530-544-1221
Balloons Over Lake Tahoe
Reservations – 530-544-7008
Points of Interest
Ehrman Mansion
Sugar Pine Point State Park
Tahoma SR 89, West Shore Lake Tahoe
530-525-7982
Taylor Creek Stream Profile Chamber
USDA Forest Service Visitor Center
Lake Tahoe Basin Management Unit
870 Emerald Bay Road
South Lake Tahoe SR 89, near Fallen Leaf Lake
530-573-2694
Vikingsholm Castle & Fannette Island
D.L. Bliss & Emerald Bay State Parks
Tahoma SR 89, West Shore Lake Tahoe
530-525-7277
Vistas of Interest
Take time to enjoy some beautiful scenery and views as you drive around Lake Tahoe!
Starting from the Forest Service Taylor Creek Visitor Center, turn left onto SR 89 then go 100 yards to Fallen Leaf Road and turn right.
Angora Lookout
Continue two miles and turn left on Tahoe Mountain Road. After one-half mile turn right on a dirt road labeled 1214 and follow it two miles to old Angora Fire Lookout. From here you`ll have a spectacular view of the Tahoe Basin. Back track to SR 89 to:
Emerald Bay
Inspiration Point offers great views of Emerald Bay, one of the most photographed spots in the world!
Continue north on SR 89 for several more great vistas:
D.L. Bliss State Park
Enjoy the lovely beach and take the nature trail that leads to Balancing Rock.
Sugar Point Pine State Park
Take a walk through a sugar pine grove and along a beautiful lake front.
Eagle Rock
After Homewood, look for an enormous rock formation standing high on the left side of the road. Eagle Rock is the neck of an eroded volcanic plug.
Fanny Bridge
This bridge spans the Truckee River, the only outlet from Lake Tahoe. Large trout are often seen below the bridge and this attracts visitors who lean over the bridge and thus the name.
Take a left at the intersection of SR 89 & SR 28 and drive five miles towards Truckee:
Squaw Valley Aerial Tram
Enjoy the fabulous views on the way and at the top of the tram.
Return to Tahoe City and turn left on SR 28 and then left on Reservoir Drive just beyond the Biltmore Casino. Turn right at the fire station on Lakeshore Avenue and left on the Forest Service Road 1601, by the iron pipe gate.
North Stateline Lookout
Pay a visit to the former Forest Service fire lookout with one of the best views of Lake Tahoe. Enjoy the self-guided nature trail.
A short trip up SR 431:
Mount Rose Lookout
A wonderful scenic overlook.
Return to SR 28 and travel south towards HWY 50 for several more great vistas:
Sand Harbor
This Nevada State Park Beach is one of the most beautiful and easily accessible of the east shore beaches. The sand is soft and the waters are crystal clear.
Logan Shoals
Logan Shoals offers a pretty vista across the lake where you can see the broad u-shaped valleys carved out of glaciers, such as Emerald Bay.
Cave Rock
HWY 50 goes right through Cave Rock, a huge rock formation that is the neck of an old volcano. The name comes from the small caves on the west side, cut by waves when the lake was 140 feet higher during the ice age. Cave Rock is also a spiritual site of the regions earliest residents, the Washoe Indian Tribe.