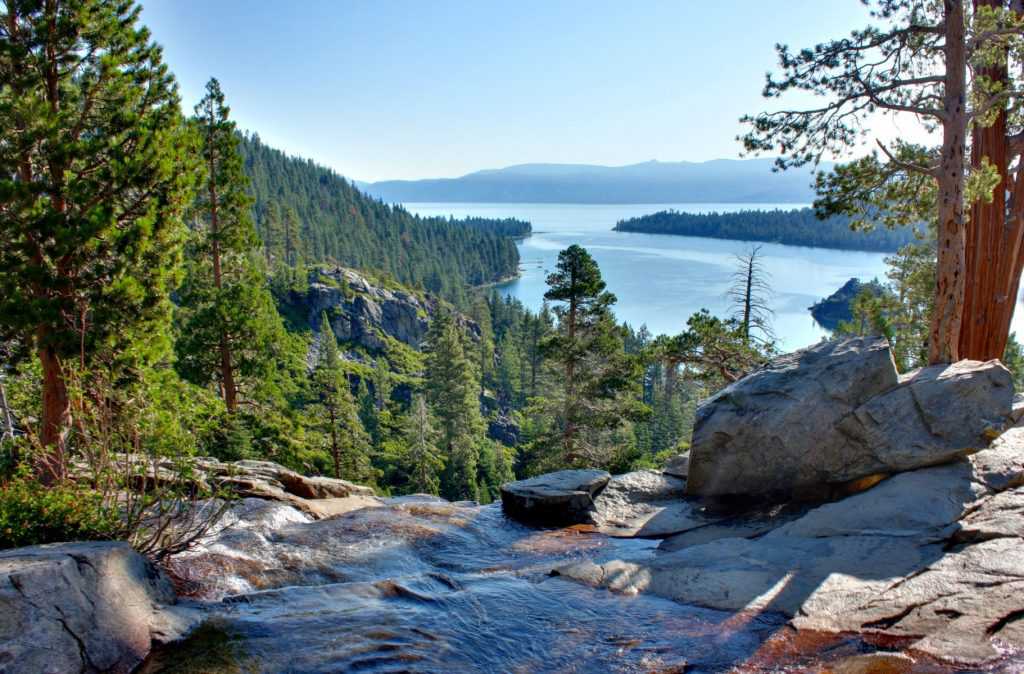 Pyramid Peak Properties Guest Terms and Conditions
Emergency Information:
All emergency FIRE, POLICE & MEDICAL needs: Call 911
Office Hours:
Our regular business hours are: Monday – Friday 9:00 a.m. to 5:00 p.m.
Contact Information:
After Hours (Emergencies): 530.731.5077. Customer Service: 888.503.2588. Real Estate Sales: 877.573.1888
Email: info@PyramidPeakProperties.com. Website: www.PyramidPeakProperties.com
Your online reservation will show your name, specific property, arrival and departure dates. All HOUSE and LOCAL GOVERNMENT RULES will apply to each reservation. Maximum Occupancy and Parking will apply with no exceptions.
Acceptance of Agreement and Credit Card Use
Your acknowledgment: By providing my credit card number or any other form of payment as a guarantee, I agree to pay all rent and associated fees, accept all terms of this agreement and accept all liability for any damage not covered by the Damage Waiver Plan during the term of my lease with Agent. If I fail to do so I understand that these costs will be charged to my credit card and all credit card sales are final. Including American Express through third party bookings. Agent is not required to notify guest when charging credit card for damages or other charges as applicable under the terms of this agreement.
Cancellation, Refunds and Vacation Travel Insurance
60 DAY RULE: If you cancel before 60 days prior to occupancy, you will receive a 100% refund less a $140 administrative fee from Pyramid Peak Properties. This does not include any additional fees you may pay to third booking parties. You should purchase travel insurance to protect your investment. Once travel insurance is purchased, you will file a claim and the 60 day rule does not apply.
There are no refunds for poor snow conditions, severe weather, late arrivals, early departures, travel conditions, road closures, allergies, health or medical issues, utility or water outages, construction at neighboring properties, war, terrorism or acts of God (i.e. pandemics).
We strongly urge you to obtain the optional Trip Cancellation & Travel Insurance, which will protect your vacation investment if you must cancel for many unforeseen reasons such as doctor reported illness, poor traveling weather, injuries or accidents, or involuntary termination of employment. Additional benefits include medical assistance while on vacation, reimbursement for lost or delayed baggage, and identity theft resolution.
#1 – Standard Travel Protection – see details below 7%
#2 – CFAR (Cancel for any Reason) Travel Protection – see details below 10.8%
Restrictions will apply, please see Insure Stays/Rental Guardian policy details.
Housekeeping
Your paid reservation includes a charge for cleaning the home on your departure. All we ask is that you bag and dispose all trash in an appropriate receptacle, wash and put away the pots and pans, and start the dishwasher.
DO NOT LEAVE ANY DISHES IN THE SINK NOR TRASH SCATTERED AROUND THE HOME
Please strip or leave beds unmade if used. Our housekeeping crews will handle it from there. A minimum of $100 will be charged to your credit card or third-party resolution for ANY additional cleaning requirements. Agent is not required to notify guest when charging credit card.
Damage Waiver Fee – $39
This Damage Waiver plan covers unintentional damages to the rental unit interior that occur during your stay, provided they are disclosed (REPORTED) to management prior to check-out. The policy will pay a maximum benefit of $2,000.00. Any damages that exceed $2,000.00 OR NOT REPORTED will be charged to the credit card on file. Again, Agent is not required to notify guest when charging credit card. The Damage Waiver Plan can be purchased up to, and including at, check-in. Please contact Pyramid Peak Properties directly if you do not wish to participate in this plan or assignment.In such case, a $2,000 to $5,000 hold will be placed on your credit card until departure inspection is secure. It can take up to two weeks for the money to be released from your card as the processing companies are in control of this dynamic, not us. This does not cover pet damages.
Fines
Should any violation of the VHR ordinance occur, fines may be imposed in accordance with 5.56.180 and 5.56.190
Reservations
A 50% deposit is required to confirm your reservation. The balance of the rental is due 60 days prior to occupancy. We will automatically charge your same credit card for the remaining amount at that time. We gladly accept Visa, MasterCard and Discover credit cards.
Confirmation
On receipt of your payment, we will send confirmation of your reservation to you by email. We will include directions to the property as well as check-in procedures upon final payment.
Check-In / Check-out
Check in time is 4:00 p.m. and check out time is 11:00 a.m. prompt!
Unless prearranged, there will be an automatic minimum charge of $50 on your credit card for any deviation of check-in/out times, meaning early in or late out. Some homes charge half a night rent. BE AWARE. We ask you to respect our prearranged check in/out times as our staff travels from far distances to complete their jobs. Most likely there are new guests coming and going the days you check in and out.
Leave used linens and towels in small piles, or leave the beds unmade.
Please place the key back in the lock box when leaving (if applicable).
Load dishwasher and start the wash cycle. It's much appreciated!
DO NOT LEAVE ANY DISHES IN THE SINK NOR TRASH SCATTERED AROUND THE HOME
Don't leave trash outside. No exceptions. Take any overflow to the dumpsters.
Turn thermostat down to 55. Don't turn off.
Please make sure all windows and doors are closed and locked.
Operating the electronic door lock:
Touch the black lock pad to wake it up. Enter the code we have provided you followed by * or the check mark (lower left symbol). Upon final departure, please put in a closing code after you lock it. Press the black pad again and enter the closing code 123456*
Operating the lockbox if there is no electronic door lock:
To open lockbox, press down "Clear" button on faceplate first, then enter code, then press down on "Open" button and faceplate will open and key is inside.
Parking
Parking is limited to the acceptable number of cars listed on the property description and no more as the owner has to be compliant with the permitting requirements. There is no parking on the street for any reason.
House Rules
Please read the Rental Information Property Page located in your home for particular considerations specific to property. In general, no loud parties or activities are permitted on location. The premises are for the sole use as a personal vacation residence by not more than the listed maximum persons allowed. No alterations of property including but not limited to moving furniture, painting, adding or changing locks, placing signs, displays or exhibits, using screws, nails or adhesives.
Noise
All residential vacation home rentals shall comply with the following standards:
A. It shall be unlawful for any person on residential property or a public way to make or continue, or cause to be made or continued, any offensive, excessive, unnecessary, or unusually loud, or raucous noise, or any noise which either annoys, disturbs, injures, or endangers the comfort, repose, health, peace, or safety of others on residential property or public ways within the County.
B. It shall be unlawful to allow, permit, encourage, organize, promote, conduct, or advertise any entertainment, game, show, exhibition, activity, amusement, gathering, or assembly of persons where there will be presented outdoor live or recorded musical entertainment without first obtaining a special use permit. Private events are allowed under the following provisions:
1. The occupants and/or guests of the vacation home rental shall not create unreasonable noise or disturbances, engage in disorderly conduct, or violate provisions of this Code or any State law pertaining to noise or disorderly conduct;
2. Parking resulting from the activity shall comply with the County parking, driveway, loading standards, and seasonal snow removal regulations.
Compliance with this standard shall be in addition to compliance with all other provisions of this Code relating to nuisance, peace, and safety.
Campfire/BBQ's
NO CAMPFIRES allowed what-so-ever. No charcoal or wood BBQ's allowed.
Alcohol/Drugs
No drinking of alcoholic beverages by persons under the legal age of twenty-one (21) is allowed on rental properties. If Guests are arrested for underage drinking at rental properties or if agents observe guests under the legal age of twenty-one (21) drinking alcoholic beverages, agents reserve the right to terminate this Agreement and evict guests with no refund or rebate. Illegal drug use is strictly prohibited and prosecuted to the fullest extent of the law.
Minimum Age Requirement
The minimum age requirement for renting a property is 25 years of age. Under no circumstances is a property to be reserved without adults of age 25 or older present at all times.
No Pets
Pets are not allowed except for authorized properties. If an unauthorized pet is on the premises occupant is responsible for all damage caused by the pet and will forfeit entire damage waiver maximum payout at the occupant's expense. Your credit card will be charged accordingly. Occupant, authorized guests, pet(s) may be required to immediately leave the premises and is in breach of this agreement. For Pet Friendly Properties: Your pet is welcome with the understanding there will be no animals on any furniture. We ask you to crate your animal while you are on the mountain and sleeping. We are not able to have a soiled bedding or carpet in any way as the next guest will often be coming in the same day you check out.
No Smoking
No smoking is allowed on premises. If smoking does occur occupant is responsible for all damage caused by the smoking including, but not limited to stains, burns, odors and removal of debris and will forfeit entire damage waiver maximum payout at the occupant's expense. Your credit card will be charged accordingly. Occupant, authorized guests may be required to immediately leave the premises and is in breach of this agreement.
Snow Removal
In consideration for snow removal operators, we appreciate your understanding and patience. Please remove your vehicle from the driveway to facilitate snow removal. If you leave cars unattended, the operator may not be able to remove snow from the driveway. You must bring your own shovel. There is no parking on the street for any reason.
Items Left Behind
Guests will pay a minimum $25 shipping fee for any items left behind and mailed back to them. If the charges are greater, the guest will be charged accordingly. Management is not responsible for lost items at the home or in transit.
Trash
You must put trash in BEAR PROOF containers. If a food source (trash, coolers etc.) is left outside, bears will come. One bear incident will lead to recurring incidents. It is necessary to lock trash in the metal Bear Box or designated trash dumpsters to alleviate the abuse of our wildlife. Thank you in advance for your consideration. If you have any questions, please call us.
Cable TV/Satellite and WIFI Service
Rental properties are individually owned and agents cannot guarantee TV channel availability. Rental properties do not necessarily offer premium packages, i.e., Movie Channels, Sports Channels, Pay Per View, etc. Agents cannot under any circumstance activate premium channels. NO EXCEPTIONS! NO REFUNDS OR REBATES will be offered. In many cases, owners have videos or internet connections for your use in lieu of cable. Some owners do not have WIFI. This is not a guaranteed amenity.
Hot Tubs
For properties that have a hot tub read on. There is no guarantee hot tubs at property will be available for guest use. Guests may not add any objects or chemicals to hot tubs. Guests agree to pay not less than $100, if hot tub has been compromised in such a manner that results in cleaning services being delayed or excessive. Hot tubs have been cleaned prior to guest's arrival. Guests understand that hot tub usage is at their own risk and will not hold Agent or Property Owner responsible for any injury. It is absolutely forbidden and extremely dangerous for children to be in the hot tub without a responsible adult. Guests must turn off hot tub jets and close the hot tub cover when not in use to avoid excessive water evaporation and damage to operating components. The hot tub breaker box switch must always be left on to allow continuous water circulation and filtration.
Linens, Towels and Household Supplies
Blankets, bed linens and a set of towels for each maximum allowed guest will be supplied. We do not provide beach towels. The kitchen is well equipped for meal preparation and serving. You can expect to find sufficient dishes, glasses, mugs, silverware and serving dishes. There will be enough soaps, toilet paper, paper towels and trash bags to get you started, but you may need to buy more depending on your usage and length of stay.
Care of the Home
Your rental property is owned by a private individual. The owner makes their home available for your use, hoping that you will enjoy the home as they do. The owner`s expenses of purchasing and maintaining the home are numerous and considerable; mortgage, property taxes insurance, utilities, association dues, repairs, management and more. Your rental payment does not cover these costs completely, it only partially offsets them. Nearly all owners are out-of-pocket to cover their total expense. We tell you this so that you may understand the importance of caring for the home as if it were your own. Please take adequate care to avoid needless damage to the home and its furnishings. In the event that any sewer drain stoppage occurs and such stoppage is the result of misuse by Occupant, guests, and/or invitees, all plumbing expenses associated with repair of said sewer drain and damage caused by said stoppage shall by the responsibility of the Occupant.Please be conscientious about energy usage and avoid running heat unnecessarily, leaving on lights or windows open. Your cooperation will help us keep our vacation rentals available and affordable. Within the City of South Lake Tahoe there are strict ordinances that must be abided or eviction and a fine up to $20,000 for loss of income may result. Again, this is to help our owners and have vacation rentals available for everyone. The owner will lose their permit if abused.
Personal Property and Injury
Occupant`s or guests` personal property, including vehicles, are not insured by Owner and/or Agent or, if applicable, HOA, against loss or damage due to fire, smoke, theft, vandalism, rain, snow accumulation, avalanche, flood, hail, ice, lightening, mudslide, wind, falling trees, explosions, earthquakes, interruption of utility service, water, criminal or negligent acts of others, or any other cause. Owner does not insure against personal injury to occupant, guests or licensees due to any reason other than the condition of the premises. Occupant agrees to indemnify, defend and hold harmless owner and owner`s representative from all claims, disputes, litigation, judgments, costs and attorney fees resulting from loss, damage or injury to occupant, occupant`s guests or licensees or their personal property.
Termination by Owner/Substitutions
Agents strive to comply with all reservation requests for specific vacation properties. However, due to ownership changes, properties being removed from rental use, mechanical problems, or other unforeseen circumstances outside of Agent`s control, Agents cannot absolutely guarantee a specific property. Agents reserve the right to change property unit assignment to a comparable property without liability should rental property become unavailable. A comparable property will have similar or better value, accommodations, function, unit amenities, or size as determined by the Agent. No refunds will be offered when comparable properties are available. Should Guest decline the comparable property, Guest may reschedule or change their reservation to another available date and property at the published rates but no refunds will be offered. If comparable properties are not available, Guests will have the option of selecting from any other available properties for their reservation dates and pay or receive a refund of the difference in the total cost or may choose to receive a full refund minus a $50 processing fee under the parameters of this agreement.