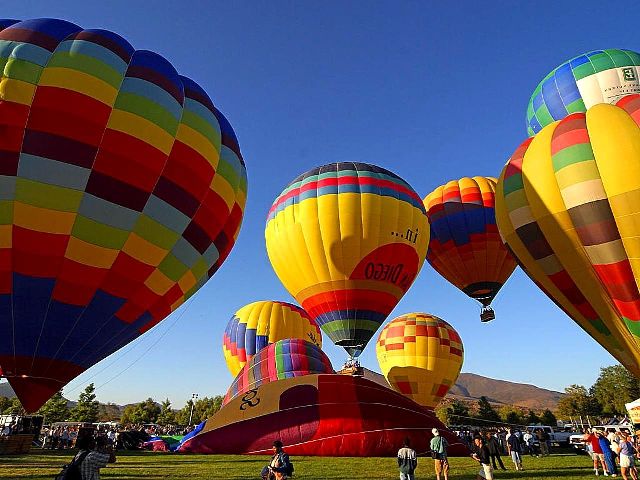 Hot Air Balloon Rides in Lake Tahoe
Riding the skies of Lake Tahoe in a Hot Air Balloon
Have you ever wanted to take a hot air balloon ride, but you're not too sure about doing it? After a trip filled with hiking, camping, and other outdoor activities, it could be fun to finish it off with hot air balloon rides in Lake Tahoe.
The anticipation is awesome. Waiting for a day you and your loved ones are together and can schedule a ride can feel discouraging. The condition of the weather, winds, and weight determine if you will be so lucky to soar the mighty skies of Lake Tahoe. Be ready to get a call the night before a scheduled flight only to be told they need to cancel. Or wake up early in the morning and call the hotline at 4:15 am to hear the disappointing news. After waiting several times to be selected, it only makes the excitement build up stronger. Experiencing hot air balloon rides in Lake Tahoe is not your typical everyday adventure let alone being above one of the most beautiful lakes in the world at 6,000 feet plus an additional 4,000 feet in the air.
Your day has come to fly! Again, that anticipation basically kept you awake all night because you didn't want to miss and oversleep one of the most exciting, unusual and impressive days of your life. The basket can fit six on one side and six on the other with a balloon filling the size of 450 cubic feet of hot air. This is a large but not the largest when it comes to balloons. Often Lake Tahoe hot air balloons will have enough people to have two trips in one morning. This is a bit of a surprise but works out great because it prolongs your adventure and also gives you the perfect opportunity to take photos of the other group going up and then back down for the splash and dash and back up again.
You dress in layers to keep warm early in the morning on the balloon, but you might need to have a hat on when the heat of the hot air is dispersed into the balloon. This balloon is launched from the Tahoe Flyer, a customized aircraft carrier, the only U.S.C.G. certified balloon launch and recovery vessel. Your pilot is Gabe Gundling with a hard-working crew that is simply just fascinating to watch in action. Everyone is amazingly accommodating and knowledgeable of the area. You will hear stories and tales of the more grounded adventures from the team.
Okay, so the time is upon you and now you are in the Lake Tahoe hot balloon and beginning to set liftoff. It's exhilarating and yet calm all at the same time. You and your loved ones are constantly looking at each other in disbelief you are actually doing this. Then you proceed to take a million photos to capture the incredible panoramic views of the entire Lake Tahoe. The hot air balloon experience takes the basket full of people to an elevation of 9,000 to 10,000 feet above sea level. Lake Tahoe is at 6,000 feet. With heights like this, you can actually see the Carson Valley over the mountains on the east side of the lake. The morning sunrise is glistening on the water so bright you look into it with blinding eyes. Some of the first sights are of the Tahoe Keys with its wandering intertwined canals for a large group of homeowners and their docks along with the marina itself. The Tahoe blue water is significant with its complementing blue skies above. From this stratosphere, you focus in on the surrounding white-capped mountains, lakes and bays. Nowhere else have I've ever seen the perspective of Fallen Leaf and Cascade lakes such as this. They are mirrored glass reflecting the rocky cliffs creating almost an illusion of not being filled with water. Then you see the iconic Emerald Bay and start trying to name the mountain peaks around the entire lake. Luckily, you have Gabe to help point out the finer attractions with a deep knowledge of facts backing up the humor. Hovering over the horizon in the early morning with colors so crisp and clear and extreme panoramic vistas from all sides of the basket brings an overwhelming emotion to your soul.
Making new friends – whether locals or tourists, the friends you make are delightful with a similar attraction to explore and learn. As with any adventure, you feel the comraderies with your fellow balloonist and I bet many of lasting friendships are born.
Historical lessons on top of the Tahoe Flyer –After both flights have concluded and it's still a fresh early morning we all gather on the top level of the craft to listen to Gabe recite some of his BS. This is fascinating and you find yourself regurgitating all you have learned to anyone who will listen. A French Champaign tradition is a celebration of old and new and all ties in with your BS with Gabe. Lake Tahoe Balloons makes this a memorable hot air balloon experience and one to take home in more ways than one. Balloonists carry many traditions and this group recites one.
"The winds have welcomed you with softness. The sun has blessed you with his warm hands. You have flown so well and so high that God has joined you in your laughter and set you gently back again into the loving arms of mother earth."

The Balloonist's Prayer
I knew this was on my bucket list. What I didn't know was it needs to be on yours. This excursion is absolutely something you want to share with everyone and a can't miss experience. Your patience will be rewarded if Mother Nature doesn't cooperate at first. Be persistent and be present.