Kirkwood and Hideout Wedding Home Rentals
Are you having a wedding Kirkwood or the Hideout? We have lots of options for your wedding party and offer special rates. The following wedding home rentals are grouped by general price and proximity but all properties at Kirkwood are close to each other. Many of these Kirkwood wedding rentals can host larger groups and families, making them all suitable choices for wedding season. Create stunning memories in the mountains with our extensive collection of wedding home rentals.
SPECIAL 2023 OFFER
25% off if 5 bookings from your wedding party book 60 days or more in advance for 2 bedroom or larger properties. Provide us with the wedding party name and we'll keep a list. Call in and let us know the wedding party name and we'll get you booked! This offer is between 5/25/23 and 9/18/23 as all surrounding dates are deeply discounted to the minimum the owner will take. No third-party bookings nor other offers can apply. We block rooms in advance in the name of the wedding party with a credit card and 50% deposit too!
Give us a call today to discuss options – 888.503.2588.
We also offer 1 night weekday rentals on our studio and hotel style rooms! – Call us directly to book
We provide full service property management 24/7 during your stay with the following wedding specific services:
Complimentary early check-in for bridal party and family
Personalized welcome letter for wedding guests
Delivery of bridal party and guest gift bags in rooms
Shuttle options
In-room irons, blow dryers and fans
CLOSEST HOME TO THE HIDEOUT WEDDING LOCATION
– We call it the MeadowOut
The MeadowOut – Beautiful log cabin and closest property to the HideOut wedding site. Only 1/2 mile off Hwy 88. This is a lifetime experience your family will always remember and will want to return. Quiet isolation in the wilderness is something only one can dream of on occasion. Yet, here it is and this luxury log cabin has everything you can imagine.
Enjoy the outdoors with numerous hikes to historic trails and fishing holes alike. Silver Lake is just below, where you can visit with the locals and take in some swimming. Star gazing is a phenomenal scene to introduce your kids to astronomy or a romantic night with your loved one. However your day is fulfilled, you will feel the relaxation your soul desires and appreciate our natural surroundings up here in the High Sierra. 2 bedroom plus loft, 2 baths – Sleeps 8 plus 5 extra – 2000+ sq. ft.
Summer Rates – starting at $500 per night.
Palisades Home
155 Palisades Drive – This beautifully furnished and unique home by owner/architect is designed for the ski and board family specially to enjoy the high elevations of Kirkwood Mountain Resort whether it be summer or winter. It is the perfect base location for a wedding at Kirkwood or The Hideout Amenities include a gourmet kitchen, 4,200 square feet of living space, sleeps 16, 5 bathrooms, wood fireplace, 2 living rooms, 2 deck areas, home stereo and wireless internet. Summer Rates – starting at $811 per night.
East Meadows and Juniper Ridge Homes – Luxury Cabins in Kirkwood
Large Kirkwood Meadow Log-Cabin Home – This 4 bedroom plus loft luxury ski cabin has is right on the meadow in Kirkwood and sleeps 14 in 3,377 square feet of space. This home offers three spacious levels spreading out bedrooms and game rooms. Bring everyone in the family including your well-behaved dog. Summer Rates – starting at $640 per night.
Whiskey Slide – This 4 bedroom luxury Kirkwood home has expansive views of Kirkwood, sleeps 12 in 2,375 square feet of space. A perfect mountain retreat for a family or two and includes a bunk room for 6 kids to each have their own bed. The living space is bright, modern and spacious. Summer Rates – starting at $503 per night.
West Meadows Homes – All of these homes are within 1/2 mile of each other in Kirkwood
Flying Wedge Duplex – This duplex features two separate 3 bedroom plus loft homes and sleeps 10. Each side features 3 bathrooms, 2,100 square feet, cable, freestanding wood stove, granite counter tops, gourmet kitchen and wireless internet. Open beam wood ceilings with a pool table in the North Side and a foosball table in the South Side. There is plenty to do here before and after the wedding in Kirkwood or The Hideout. Summer Rates – starting at $419 per night.
Click for details on the North Side and the South Side.
West Meadows Luxury Get-a-way Home in Kirkwood – This 3 bedroom luxury Kirkwood home with multiple living spaces is a great choice for a family or large group. The home is upscale, comfortable and features a great room living area, pool table game room, den, wood burning fireplace and gourmet kitchen. Summer Rates – starting at $385 per night.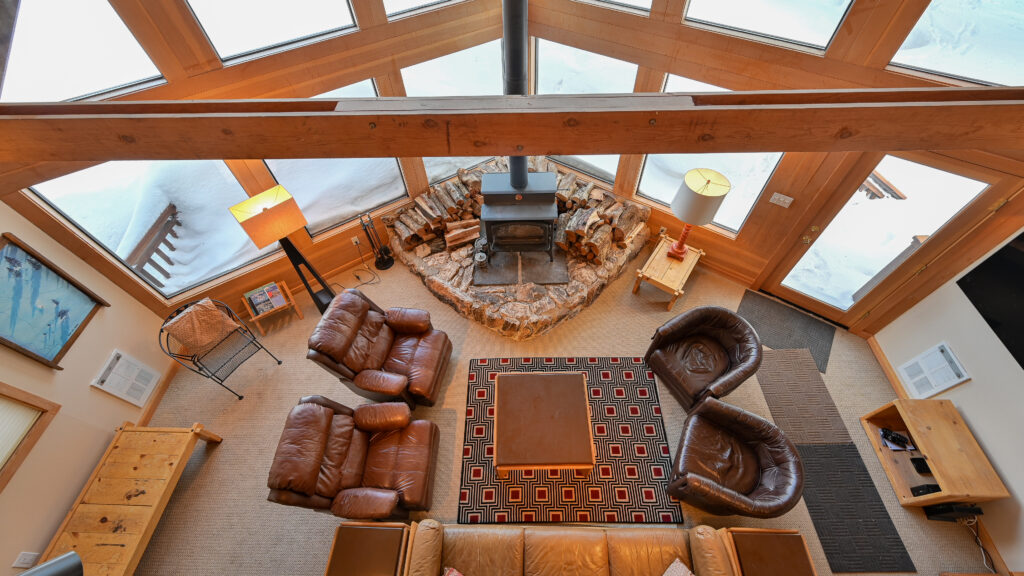 A-Frame of Mind – You'll find A-Frame of Mind just right for your family. If this is your first time to Kirkwood Mountain Resort, you'll be drawn to its beautiful and natural setting nestled in the Sierra Nevada mountains of California. The resort offers a variety of summer attractions such as hiking, biking, scenic jaunts in waist-deep wildflowers, and many Alpine lakes to dip into. Retreat to the serenity of this cozy cabin on the meadow with sweeping views of the valley and Red Cliffs towering beyond. This mid-century modern A-Frame welcomes you to curl up by the fire beneath 22ft ceilings, enjoying a well-deserved family meal and movie night after a wonderful day. Summer Rates starting at – $189/night
Luxury Condos – These condos are located near the village base, all within walking distance of each other and the affordable condos for all your Kirkwood and Hideout wedding needs
Meadow Stone Lodge
This is one of the newly built condos at Kirkwood and feature several room types. Each condo amenities include access to an underground parking garage, elevator, gas fireplace, full kitchen and wireless internet. Summer Rates – $224 to $376 per night.
3 Bedroom that sleeps 10 – Meadow Stone 205 Pet Friendly
3 Bedroom Loft that sleeps 10 – Meadow Stone 402
2 Bedroom Loft that sleeps – Meadow Stone 311
2 Bedroom that sleeps 5 – Meadow Stone 304
Lost Cabin
Lost Cabin 2 – Our 2 bedroom townhome sits right on the meadow and is centrally located at Kirkwood. Amenities include 2.5 bathrooms, sleeps 6, gas fireplace, full kitchen, 2 decks and gas grill. Summer Rates starting at – $232 per night.
Lost Cabin 7 – This 2 bedroom, 2.5 bath townhome is a very nice accommodation that sleeps 7, full kitchen, gas grill and right across from the other Lost Cabin townhome. Summer Rates – starting at $232 per night.
Mountain Club
The Mountain Club offers everything from hotels to 2 bedroom lofts in the village center and is very quiet during the summer months. Each condo has access to an underground parking garage, hot tub, fitness center and wireless internet for your Kirkwood or Hideout wedding guests enjoyment. Summer Rates – starting at $152 to $381 per night.
Studio that sleeps 4 – Mountain Club 218 or Mountain Club 226
Studio Loft that sleeps 4 – Mountain Club 318-I or Mountain Club 318-III
1 Bedroom Loft that sleeps 8 – Mountain Club 320-322
1 Bedroom Loft that sleeps 10 – Mountain Club 327-329
Snowcrest Lodge
Snowcrest is one of the most coveted properties to rent at Kirkwood! This building features 2 of our condos and each have access to an underground parking space, full kitchen, gas fireplace, patio, cable TV and wireless internet. Summer Rates – starting at $318 per night.
2 Bedroom that sleeps 8 – Snowcrest 107
2 Bedroom Loft that sleeps 10 – Snowcrest 215
Economical Kirkwood and Hideout Wedding Lodging Options – These condos are located near the village base, all within walking distance of each other and the other luxury condos
The Meadows
Some of our most affordable accommodations to fit any wedding patrons budget! All studios feature a full kitchen, dining table, wood burning fireplace, patio and wireless internet. Summer Rates – starting at $132 to $248 per night.
The Meadows 228a Hotel style that sleeps 4
The Meadows 129 Studio – Pet Friendly
The Meadows 132 Studio
The Meadows 224 Studio
The Meadows 228 1 bedroom that sleeps 6
The Meadows 116 2 bedroom that sleeps 8+
Sun Meadows
This property features lots of wedding lodging options and is close to everything. All condos have an underground parking space, full kitchen, cable TV and wood burning fireplace. Summer Rates – starting at $137 to $287 per night.
Hotel Style Condo that sleeps 2 – Sun Meadows 4-208A
Hotel Style Condo that sleeps 4 – Sun Meadows 1-303A
1 Bedroom that sleeps 6+ – Sun Meadows 3-206
1 Bedroom that sleeps 5 – Sun Meadows 3-202
1 Bedroom that sleeps 4 – Sun Meadows 3-103
2 Bedroom that sleeps 8 – Sun Meadows 1-102
2 Bedroom that sleeps 10 – Sun Meadows 1-202
2 Bedroom that sleeps 8 – Sun Meadows 2-102 Pet Friendly
Whiskey Towers
This 8 story building features spacious 1250 sq.ft. 2 bedroom condos and fantastic views of Kirkwood. Each home has a gas fireplace, patio, full kitchen and elevator access for your wedding guests. Summer Rates – starting at $137 to $371 per night.
2 Bedroom that sleeps 10 – Whiskey Towers 810
2 Bedroom that sleeps 12 – Whiskey Towers 510
Hotel Style Condo that sleeps 4 – Whiskey Towers 620A
Hotel Style Condo that sleeps 2 – Whiskey Towers 620B
Base Camp
This is the oldest set of buildings at Kirkwood but still very clean and close to the Village at Kirkwood as well as the Hideout Wedding site. Several condos here are pet friendly and are close to the meadow for easy access.
Summer Rates – starting at $183 to $234 per night.
1 Bedroom that sleeps 6 – Base Camp 20 Pet Friendly
2 Bedroom that sleeps 9 – Base Camp 22
2 Bedroom that sleeps 7 – Base Camp 39 Pet Friendly
3 Bedroom that sleeps 8 – Base Camp 29